If I had to sum up how autumn affects the food community, I'd use this picture: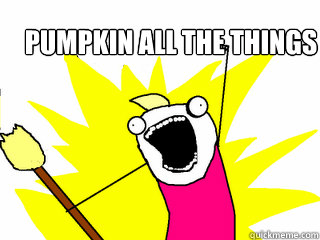 People, myself included, go
cah
-
razy
for pumpkin. Sweet recipes, savory recipes, no-bake recipes, epic recipes.
Before the baking and cooking frenzy begins in my kitchen, there's one thing I absolutely must have to whet my appetite: pumpkin butter.
A few years ago, a friend told me about the pecan pumpkin butter from
Williams-Sonoma
. She swore up and down that it was the best she'd ever had, and I had to get some immediately. So, I did.
Man, was she right!
To be fair, I'd never actually
had
pumpkin butter until I bought that jar, but that's irrelevant. I immediately fell head over heels for it.
Each year, I buy at least two jars, one at a time. I buy the first thinking it'll last all season, and I'll be able to exercise some willpower and ration it out over two or three months. However, it quickly becomes clear that a spoonful of pumpkin butter a day keeps the doctor away, and that little ol' jar doesn't go very far.
(I swear that rhyme was unintentional. Scout's honor.)
Once the first is scraped clean, I'll return to the store to purchase a second jar for another $12 (eeek!). That one lasts a
little
longer, usually until Thanksgiving, which is a miracle considering that pumpkin butter finds its way onto and into just about everything.
Crackers, toast, oatmeal, apples, cookies, smoothies, yogurt, certain cheeses, even s'mores. Yes, s'mores. If you've never had a s'more with pumpkin butter, you haven't fully lived. Try ASAP.
Recalling years past and knowing how much pumpkin butter I actually consume, I decided to try my hand at making my own this year. Why not? I've made Oreos and pie crusts and many other things far more complicated.
Turns out that pumpkin butter is just about the easiest thing to make. Like, ever ever. If you can measure and stir, you can make pumpkin butter. And the ingredients are easy to find and super inexpensive. And it tastes exactly like the stuff I first loved so dearly. Sweet, perfectly spiced, and so gosh darn smooth.
So, what's keeping you from making your own deliciously addictive pumpkin butter? Absolutely nothing!
Two years ago:
Mushroom & white bean ragout
Three years ago:
Cinnamon-spiced Moroccan chicken
Pumpkin Butter
(adapted from
Smitten Kitchen
, who adapted from
All Recipes
)
-makes about 3 cups
A few notes: To truly mimic that famous pecan pumpkin butter, toast 1/2 cup finely chopped pecans and stir into pumpkin and spice mixture while reducing over heat. I left them out because I made this on the spot and didn't have any but will include them next time. Also, I actually halved this recipe because I used some for oatmeal two mornings in a row.
3 1/2 cups (one 28-ounce can) pumpkin puree (not pumpkin pie filling)
3/4 cup apple juice
2 teaspoons ground ginger
1/2 teaspoon ground cloves
1 1/3 cups lightly packed brown sugar
1 Tablespoon ground cinnamon
1/2 teaspoon ground nutmeg
Juice of half a lemon
Combine pumpkin, apple juice, spices, and sugar in a large saucepan, and stir well. Bring mixture to a boil. Reduce heat, and simmer for 30 minutes or until thickened, stirring frequently. Adjust spices to taste. Stir in lemon juice. Remove from heat and cool completely.
Once cool, pumpkin butter should be kept in an airtight container and refrigerated. Refrigerated, it will keep up to 3 weeks. Frozen, pumpkin butter will keep 6-9 months. Read
this post
about food safety and why pumpkin butter cannot be canned.