It's the first Friday in November, and guess who typed October instead? Oops. Good thing there isn't much on tap for this weekend, so I can get my bearings and calendars on the same page (pun intended). The only thing set in stone is a date night for Matt and me on Saturday: we're going to sample the most recently voted best
pizza in Pittsburgh
and finally see
Argo
. I know, I know. We are sooooo late to that party.
Have you seen it?
With the weather being gray and wet and cold for the last five days, my mind is clearly craving all things covered up and cozy. Check out my five Friday picks to fit my mood:
1. If soulmates existed in edible forms, this would most certainly catch the heart and soul of a friend of mine as well as my mother-in-law. A
coffee and doughnuts milkshake
. Yes, yes, yes!
2. With Halloween being so last month, I'm looking for decorations that can make the transition into the rest of autumn through Thanksgiving. Three cheers for Pinterest (shocking, right?), where I found these super easy and inexpensive
fabric pumpkins
. This is going to be a perfect weekend craft. P.S. You'll never guess what the "frame" for the pumpkins are...
rolls of toilet paper!
#whydidntithinkofthat
3. These
riding boots
. I've been on the hunt for new riding boots for over 2 years, and I finally found a pair that I absolutely love. With a
lot
of coaching (thanks, friends!) and a few trusty coupon codes, I ordered them yesterday. Cross your fingers that they fit like a dream!
4. Fashion law #17: "Leggings are not pants." However, when paired with a comfy over-sized sweatshirt, leggings are totally acceptable forms of lounge wear around the house. And
festive leggings
are practically mandatory. Want, need, and must have!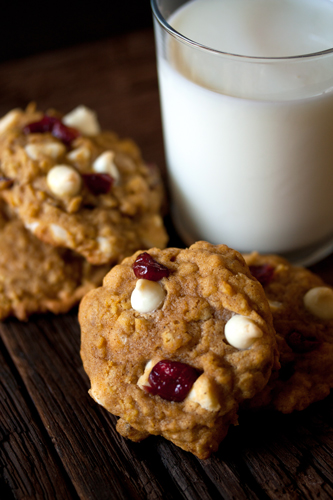 5. OH-EM-GEE.
Pumpkin oatmeal cookies
with white chocolate and dried cherries.
All the things!!!
Good thing I have canned pumpkin in my pantry. This is so happening this weekend.
Have yourself a warm, cozy, and relaxing weekend! And remember to set your clocks back 1 hour on Saturday night/Sunday morning. See you on the Mon-dizzle!